Howls & Whispers: The Averse Sephiroth and the Spheres of the Qlippoth.
An analysis of Ted Hughes' use of Cabbala in Howls & Whispers.
© Ann Skea
---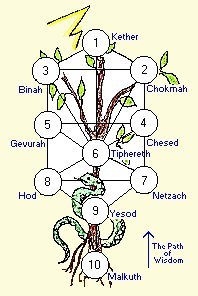 'Paris 1954': Malkuth.
'Religion': Yesod.
---
'The Hidden Orestes': Hod.
'The Laburnum': Netzach.
'The Difference': Tiphereth.
---
'The Minotaur 2': Gevurah.
'Howls and Whispers':Chesed.

---
'The City': Daath.

---
'Moon-Dust': Binah.
'The Offers': Chokmah.
'Superstitions': Kether.
---